Apples (also known as malus sylvestris or pyrus malus) are one of the best known and most common fruits in the world with over 7,500 different variations growing worldwide. The proverb "An apple a day keeps the doctor away" has been in circulation since 1866, and according to modern research, apples do in fact have many health benefits. For example, did you know that eating an apple cleans your teeth?
The first mention of people eating apples can be traced all the way back to ancient Greece. Back then, they could be used as a way for a man to propose to a woman; today they're famous for their variety of health benefits. Mostly eaten raw, apples have earned their fame and the name of "superfood" for several reasons
Immune System and General Health Support
Apples are rich in several vitamins including Vitamin C, Vitamin A, and Vitamin E. Vitamin C from apples, like any other source of the vitamin, can help to boost your immune system and help you stay healthy overall. The vitamins A and E will also have an effect on your health as they have been known to help reduce the risk of developing heart disease, diabetes, and even asthma. Apples are also a good source of pectin and boron. Pectin is a soluble fiber that can help regulate the digestive system. In addition to this, pectin also lowers blood pressure, glucose levels, and bad cholesterol. Consumption of boron can support bone and brain health.
Help to Prevent Cancer and Alzheimer's
Quercetin is a nutrient found in apples and is known as a flavonoid. This flavonoid is believed to have the potential to help prevent different cancers including lung and breast cancer. It is also believed that quercetin may help prevent damage done by free radicals. Free radicals are atoms that have unpaired electrons. These unpaired electrons can result in damage to a cell and even to DNA. The damage caused by free radicals has been linked to different age-related diseases including Alzheimer's. Quercetin has the ability to neutralize free radicals, helping to prevent such diseases.
A Natural Toothbrush
Eating an apple can be a good support for keeping your mouth healthy. They help clean your teeth by abrasion as they have a firm texture to bite into, and their mildly acidic nature also helps remove plaque and stains from teeth, so apples are great to eat after a meal or strong colored drink such as a coffee. Drinking a glass of water after the apple is even better as this then washes away acidic saliva and also any plaque residue.
Apple recipes
Most people probably know how to make apple pie, and there are so many varieties possible! Apple juice is very common as well, but what else to make with apples? They surely cab be used for breakfast, lunch, dinner and desserts. See for yourself that apples are a great source of inspiration for cooking, baking and more.
Note: The sugar amounts are just guidelines, depending your taste, and on the sweetness of your apples, use less or more or choose a different (and healthier) product for sweetening like honey, agave syrup or stevia. If you use less sweetening, you'll likely want to use less lemon juice. The lemon juice brightens the flavor of the apples and balances the sweetness.
Apple sauce
A delicious applesauce to eat as a side dish, dessert or as just a snack… Children are usually very fond of apple sauce. It freezes easily, lasts up to one year in a cold freezer!
Ingredients:
3 to 4 lbs of peeled, cored, and quartered apples. (You best use a good cooking apple like Golden Delicious, Jonagold, Granny Smith, Fuji, Jonathan, Mcintosh, or Gravenstein.)

4 strips of lemon peel – use a vegetable peeler to strip 4 lengths

Juice of one lemon, about 3-4 Tbsp

3 inches of cinnamon stick
1/4 cup of dark brown sugar

up to 1/4 cup of white sugar

1 cup of water
1/2 teaspoon of salt
Preparation Method:
Put all ingredients into a large pot. Cover. Bring to boil. Lower heat and simmer for 20-30 minutes.

Remove from heat. Remove cinnamon sticks and lemon peels. Mash with potato masher.

Ready to serve, either hot or refrigerated. Delicious with vanilla ice cream or vanilla yoghurt.
Applesauce Spice Cake Recipe
For this recipe, you need the recipe of the apple sauce which you can find above.
1/2 cup (1 stick) unsalted butter, room temperature

2 cups all-purpose flour
1 teaspoon baking soda
1 teaspoon cinnamon
1/2 teaspoon ground allspice
1/2 teaspoon grated nutmeg
1/4 teaspoon ground cloves
1/2 teaspoon salt
1 cup sugar
3 large eggs
1/2 teaspoon vanilla
1 cup applesauce

1/4 cup plain yogurt diluted a bit with milk, or 1/4 cup of buttermilk

1/2 cup of chopped walnuts
1/2 cup raisins
Preparation method:
Preheat oven to 375°F. Butter and flour an 8-in square baking pan, set aside.

Sift together the flour, baking soda, cinnamon, allspice, nutmeg, cloves, and salt. Set aside.

In an electric mixer, beat butter until light, add sugar and beat until fluffy. Add the eggs, one at a time, beating to incorporate after each addition. Add the vanilla and the applesauce and beat until smooth.

Mix in half of the dry ingredients. Just before they are blended, add the thinned yogurt (or buttermilk). Then mix in the rest of the dry ingredients, until completely incorporated. Do not over-mix.

Pour out the batter into your prepared cake pan. Place in the middle rack of the 375°F oven and bake for 25-30 minutes, until done. The cake should spring back to the touch, and a toothpick or thin skewer should come out clean after being inserted in various spots in the middle of the cake. Remove the cake from the oven. Let cool for 15 minutes. Then invert to cool completely on a rack.
Tarte Tatin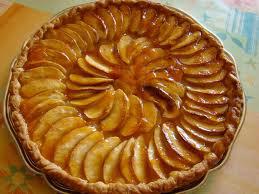 Invented by two elderly spinsters, the Tatin sisters, this sensuous dessert is one of
Raymond Blanc's favourites. Combining the pleasures of dark caramel, crisp pastry and the sweet acidity of apples, it deserves to be served with the very best crème fraîche or vanilla ice cream.
Ingredients:
2kg dessert apples, about 12, peeled
3 tbsp water
100g caster sugar
60g cold unsalted butter, diced
30g unsalted butter, melted, to add richness
300g all-butter puff pastry, rolled to a thickness of 3mm, cut
very slightly larger than the diameter of the tarte tin, pricked with a fork
and frozen
Equipment and preparation:
You will need a 20cm/8inch tarte Tatin dish.
Preparation method:
Preheat the oven to 180C/350F/Gas 4.

Cut the apples in half horizontally, remove the cores and slice off the rounded tops and bottoms of the apples so they sit flat in the tin.
Put the water in the bottom of the tin and sprinkle over the sugar. Let it sit for two minutes to allow the water to absorb the sugar.
On a medium heat, cook the syrup until it turns to a pale blonde caramel (do not let it become too dark or the flavor will overpower the apples), then stir in the diced butter – this will stop the caramel cooking and give extra richness to the dish.
Arrange the apples, middles uppermost, around the edge of the tin and then fill in the center with the remaining apples. It is important to pack them as tightly as possible – press them down with your hands as you go.
Brush the apples with the melted butter and place the tin on a baking tray. Bake in the oven for 30 minutes.
Remove from the oven and place the disc of frozen pastry on the top. Tuck the edges of the pastry into the dish and prick a few holes with a sharp knife to let the steam out as the dish cooks.
Return to the oven for a further 40-45 minutes, or until the pastry is crisp and golden-brown.
Allow to cool at room temperature for one hour before turning out of the tin and serving warm. Alternatively, make the tart the day before and reheat as above.
Spiced apple chutney
The following recipe is suitable for 4 to 6 jars of delicious apple chutney. Be surprised of the tastefulness of these spices apples!
Ingredients:
225g onions, chopped
900g apples, cored and chopped
110g sultanas, raisins or chopped dates
15g ground coriander
15g paprika
15g mixed spice (curry)
15g salt
340 granulated sugar
425ml pints malt vinegar
Preparation method:
Put all the ingredients into a preserving pan. Slowly bring to the boil until the sugar has dissolved.
Simmer for 1½-2 hours, stirring from time to time to stop the chutney sticking to the pan.
When it is very thick and you can draw a wooden spoon across the base of the pan so that it leaves a channel behind it that does not immediately fill with liquid, the chutney is ready.
Turn into sterilized jars, seal and cool.
Store in a cool, dark cupboard for two to three months before eating.
Apple crumble
We all have tasted a delicious Apple Crumble, it's a real apple treat. Don't worry, you can easily make it yourself!
For the crumble you need:
300g plain flour, sieved pinch of salt

175g unrefined brown sugar
200g unsalted butter, cubed at room temperature

Knob of butter for greasing
For the filling you need:
450g apples, peeled, cored and cut into 1cm/½in pieces
50g unrefined brown sugar

1 tbsp plain flour

1 pinch of ground cinnamon
Preparation method:
1. Preheat the oven to 180C/350F/Gas 4.
2. Place the flour and sugar in a large bowl and mix well. Taking a few cubes of butter at a time rub into the flour mixture. Keep rubbing until the mixture resembles breadcrumbs.
3. Place the fruit in a large bowl and sprinkle over the sugar, flour and cinnamon. Stir well being careful not to break up the fruit.
4. Butter a 24cm/9in ovenproof dish. Spoon the fruit mixture into the bottom, then sprinkle the crumble mixture on top.
5. Bake in the oven for 40-45 minutes until the crumble is browned and the fruit mixture bubbling.
6. Serve with thick cream or custard.
Apple Butter
It's hard to find any apple butter, let alone good apple butter in the grocery store these days. Making apple butter is a great way to preserve the fruits of an apple harvest. In contrast to what the name implies, there is no "butter" in apple butter. The name comes from its smooth and buttery texture. Apple butter is delicious on buttered toast.
Although apple butter takes time to make (the sauce is slow cooked for at least an hour), the upfront part is easy. You do not have to peel or core the apples. The pectin for firming up the resulting jam resides mostly in the cores and there is a lot of flavor in the apple peels. After the first cooking, these parts get discarded as the pulp is run through a food mill.
Ingredients for making a little more than 3 pint jars:
4 lbs of good cooking apples (we use Granny Smith or Gravenstein)

1 cup apple cider vinegar

2 cups water

Sugar (about 4 cups, see cooking instructions)

Salt
2 teaspoons cinnamon
1/2 teaspoon ground cloves
1/2 teaspoon allspice

Grated rind and juice of 1 lemon
Equipment Needed:
1 wide 8-quart pan (Stainless steel or copper with stainless steel lining)

A food mill or a chinois sieve

A large (8 cup) measuring cup pourer

6-8 8-ounce canning jars
Preparation Method:
Cut the apples into quarters, without peeling or coring them (much of the pectin is in the cores and flavor in the peels), cut out damaged parts.

Put them into large pot, add the vinegar and water, cover, bring to a boil, reduce heat to simmer, cook until apples are soft, about 20 minutes. Remove from heat.

Ladle apple mixture into a chinois sieve (or foodmill) and using a pestle force pulp from the chinois into a large bowl below. Measure resulting puree. Add 1/2 cup of sugar for each cup of apple pulp. Stir to dissolve sugar. Add a dash of salt, and the cinnamon, ground cloves, allspice, lemon rind and juice. Taste and adjust seasonings if necessary.
Cook uncovered in a large, wide, thick-bottomed pot on medium low heat, stirring constantly to prevent burning. Scrape the bottom of the pot while you stir to make sure a crust is not forming at the bottom. Cook until thick and smooth (about 1 to 2 hours). A small bit spooned onto a chilled (in the freezer) plate will be thick, not runny. You can also cook the purée on low heat, stirring only occasionally, but this will take much longer as stirring encourages evaporation. (Note: the wider the pan the better, as there is more surface for evaporation.)

There are several ways to sterilize your jars for canning. You can run them through a short cycle on your dishwasher. You can place them in a large pot (12 quart) of water on top of a steaming rack (so they don't touch the bottom of the pan), and bring the water to a boil for 10 minutes. Or you can rinse out the jars, dry them, and place them, without lids, in a 200°F oven for 10 minutes.

Pour into hot, sterilized jars and seal. If you plan to store the apple butter un-refrigerated, make sure to follow proper canning methods. Before applying the lids, sterilize the lids by placing them in a bowl and pouring boiling water over them. Wipe the rims of the jars clean before applying the lids. I use a hot water bath for 10 minutes to ensure a good seal.
IzReal.eu – It's really you