Blueberries have been found to be a "superfood", so good for you that you should go out of your way to eat them. They neutralize free radicals, protect your heart, improve your vision, and protect against degenerative brain diseases.
Blueberries (vaccinium corymbosum), named for their deep blue color, are one of the few fruits native to North America. The genus vaccinium includes over 450 species including cranberries, bilberries, and blueberries.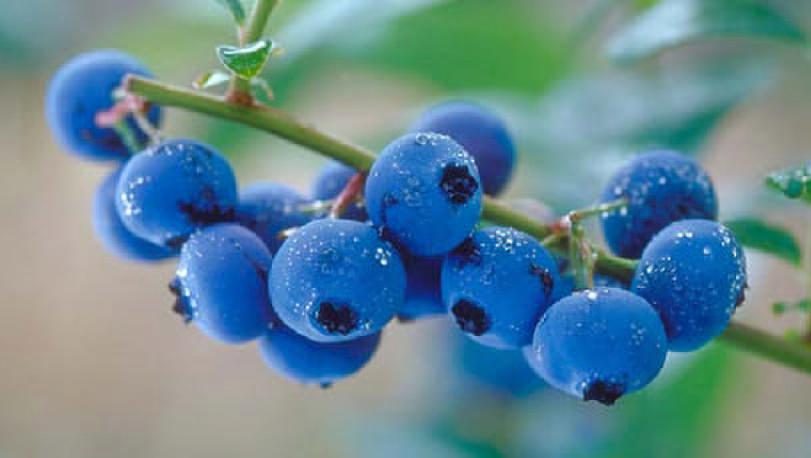 Nutrition
Blueberries are not only tasty, but are low in calories and packed with vitamins, fiber, manganese, iron, and antioxidants. The berries and leaves have a number of medicinal properties that have been used for generations to treat and prevent digestive orders, improve circulation, maintain eye health, and reduce inflammation. Scientific research in the United States, Canada, and Europe continues to reveal the amazing health benefits of blueberries.
Each 1/2 cup serving of fresh blueberries contain 11g of carbohydrates from two main sources: dietary fiber and simple sugars. A serving of blueberries contains 10 percent of the daily requirement of vitamin C, as well as 2 percent of the recommended daily allowance for iron. Vitamin C aids the formation of collagen, helps maintain healthy gums and capillaries, and promotes iron absorption and a healthy immune system.
Health Benefits
Regularly consuming the nutrients contained in blueberries may decrease the risk of cardiovascular disease, neurological conditions like Alzheimer's disease, high blood cholesterol and cancer. They are also proven to combat insulin resistance that has been linked to obesity and diabetes – rats that dined on a diet of blueberries ended up with reduced liver mass and lost abdominal fat.
Blueberries have one of the highest antioxidant capacities of all fruits and vegetables, which combat free radicals that can damage cellular structures and DNA.
The health benefits associated with blueberries are attributed to their unique assortment of phytochemicals, the most abundant of which are anthocyanins, the plant pigments responsible for blueberries' deep blue color. Current research regarding blueberries has focused primarily on their antioxidant properties with the potential cancer-prevention properties, protective effects against dementia-related diseases, and link to urinary tract, heart, and vision health.
For centuries, dating back to ancient Greeks and Romans, blueberries have been used to treat diseases of the urinary tract. Studies have shown that hippuric acid in blueberry juice acidifies urine, which prevents harmful bacteria from developing and helps to remove calcium oxalates that lead to kidney stones.
Astringent and antivomitive properties in blueberries also make them a great treatment for a number of digestive issues. The astringent agents are able to stop diarrhea and aids difficult digestion. More than 30 anti-inflammatory properties are present in the blueberry and can help reduce the effects of inflammatory bowel disease.
Blueberry extract helps improve micro-circulation, which benefits the capillaries serving the eyes and mucous membranes of the digestive and pulmonary systems. Healthier capillaries improve circulation throughout the body, which could help those suffering from arthritis, water retention, varicose veins, bruising, and hemorrhoids. Tea made from the dried leaves can be used for sore throat and inflammation of the mouth or the skin lining the throat.
Effective treatment of wounds and skin diseases are also associated with blueberries. Mouthwashes made of dried blueberry leaves can help reduce mouth ulcers and the anti-inflammatory properties of the plant also help reduce pimples and facilitates healing.
Studies suggest that women who have a diet high in anthocyanins, which are found in blueberries, have a significantly reduced risk of developing heart disease. Potential benefits of blueberries on the heart include increased flexibility in the blood vessels, decreased inflammation, and decreased platelet aggregation.
Blueberries are also brain boosters. Studies have shown that blueberries can help with memory loss and increased circulation, which may help to combat the start or progression of degenerative diseases like Parkinson's and Alzheimer's  Findings have spurred new research into the benefits of blueberries on cognitive function, since they point to the possibility of overcoming the genetic predispositions to Alzheimer's disease.
Blueberry tips
The following suggestions make the picking and preserving of blueberries a lot easier!
Picking tips:
Select plump, full blueberries with a light gray-blue color. A berry with any hint of red isn't fully ripened. White and green colored blueberries will not ripen after they are picked; while blueberries that have already turned purple, red or blueish usually DO ripen after they are picked (if they are kept at room temperature to ripen).
Since blueberries hang on the bushes in bunches like grapes do, the easiest and fastest way to pick them is hold your bucket under them in one hand and with your other hand, cup a ripe bunch and gently rub them with your fingers. The ripe berries will drop into your bucket, while the unripe ones will remain attached to the bush.
Preservation tips:
Once picked, don't place the berries, still warm from the sun, in a closed bag or container. Leave the container open so moisture doesn't form in the container.
Don't wash berries until just before using to prevent berries from becoming mushy.
Chill berries soon after picking to increase shelf life.  If refrigerated, fresh-picked blueberries will keep 10 to 14 days.
Freeze berries in freezer containers without washing to keep the skins from toughening.  Place berries one layer deep. Freeze, then pour the frozen berries into freezer containers. Because unwashed blueberries freeze individually, they can be easily poured from containers in desired amounts. Remember both frozen and fresh berries should be rinsed and drained just before serving. Just before using, wash the berries in cold water.

Put this in your pipe!Indians in the Northwest Territory smoked wild blueberries to preserve them for the winter. (Bet you didn't know that!)
Blueberry recipes
Blueberries are one of the easiest fruit to prepare and serve. There's no peeling, pitting, coring or cutting. So let's get started!
Blueberry jam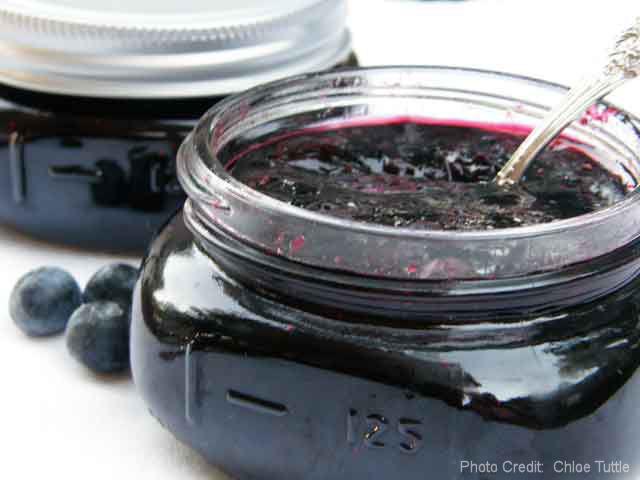 Ingredients:
1 pound fresh or frozen blueberries (about 1 quart)

3 ½ cups sugar

1 tablespoon bottled lemon juice
1/4 teaspoon ground cinnamon
1/8 teaspoon ground cloves
1 pouch (3 ounces) liquid fruit pectin
Preparation method:
Crush blueberries; measure 2-1/2 cups and place in a large saucepan. Add the sugar, lemon juice, cinnamon and cloves; bring to a rolling boil over high heat, stirring constantly. Quickly stir in the pectin. Return to a full rolling boil; boil for 1 minute, stirring constantly.

Remove from the heat; skim off foam. Carefully ladle hot mixture into hot half-pint jars, leaving 1/4-in. head space  Remove air bubbles; wipe rims and adjust lids. Process for 10 minutes in a boiling-water canner. Yield: 4 half-pints.
Blueberry Pie
When blueberries are in season, what better to do with them (other than eating them straight from the basket) than make blueberry pie?
The crust:
1 1/4 cups all-purpose flour, plus extra for rolling

1/2 teaspoon salt

1/2 teaspoon sugar (increase to 1 1/2 teaspoons if for a sweet recipe)

8 Tbsp (1 stick) unsalted butter, very-cold, cut into 1/2 inch cubes

3 to 4 Tbsp ice water, very cold
The minute you even think you might want to make a pie crust, cut up a stick of butter into smallish (about 1/2-inch) cubes, and put it into the freezer. The colder the butter the better luck you'll have with creating a flaky crust. Freeze the butter at least 15 minutes, better an hour, best overnight. (I usually keep cubed butter in the freezer ready to go for making pie crusts.)

Place the flour, salt, and sugar into a food processor and pulse until well combined. Add half of the butter cubes and pulse 6 to 8 times. Then add the other half of the butter cubes and pulse 6 to 8 more times. You should have a mixture that resembles a coarse meal, with many butter pieces the size of peas.

Add a couple of tablespoons of ice cold water (without the ice!) to the food processor bowl and pulse a couple of times. Then add more ice water, slowly, about a tablespoon at a time, pulsing after each addition, until the mixture just barely begins to clump together. If you pinch some of the crumbly dough and it holds together, it's ready, if not, add a little more water and pulse again. Try to keep the water to a minimum. Too much water will make your crust tough.
Remove the crumbly mixture from the food processor and place on a very clean, smooth surface. If you want an extra flaky crust, you can press the heel of your palm into the crumbly mixture, pressing down and shmooshing the mixture into the table top. This is a French technique, called "fraisage". Do this a few times, maybe 4 to 6 times, and it will help your crust be extra flaky. Then, use your hands to press the crumbly dough together and shape into a disc. Work the dough only enough to just bring the dough together. Do not over-knead or your crust will end up tough. You should be able to see little bits of butter, speckling the dough. When these bits of butter melt as the crust cooks, the butter will help separate the dough into flaky layers. So, visible pieces of butter are a good thing, what you are aiming for, in the dough. Sprinkle the disc with a little flour on all sides. Wrap the disc in plastic wrap and refrigerate at least 1 hour. (At this point you can freeze the dough disk for several months until ready to use. Defrost overnight in the refrigerator before proceeding.)
When you are ready to roll out the dough, remove the disk from the refrigerator and place on a clean, smooth, lightly floured surface. Let it sit for 5 to 10 minutes to take just enough of a chill off of it so that it becomes easier to roll out. Sprinkle some flour on top of the disk. Using a rolling pin, roll out the dough to a 12 inch circle, to a thickness of about 1/8 of an inch thick. As you roll out the dough, check if the dough is sticking to the surface below. Add a few sprinkles of flour if necessary to keep the dough from sticking. Place on to a 9-inch pie plate, lining up the fold with the center of the pan. Gently unfold and press down to line the pie dish with the dough.
Filling ingredients:
6 cups (about 2 1/4 pounds or 1 kilo) of fresh (or frozen) blueberries, rinsed and stems removed (if using frozen, defrost and drain first)

1/2 teaspoon lemon zest
1 Tbsp lemon juice

1/4 cup (about 30g) all-purpose flour (for thickening)

1/2 cup white granulated sugar (100g)

1/4 teaspoon cinnamon

2 Tbsp butter (unsalted), cut into small pieces
Egg wash ingredients:
Preparation method:
Prepare the crust. Roll out half of the dough to 1/8-inch-thick circle on a lightly floured work surface, about 13 inches in diameter. Fit the dough over a 9-inch pie pan, and trim the edges to a 1/2 inch over the edge all around the pan. Put into the refrigerator to chill for about 30 minutes.
Gently mix the blueberries, sugar, flour, cinnamon, lemon zest, and lemon juice in a large bowl. Transfer them to the chilled bottom crust of the pie pan. Dot with butter pieces. Roll out remaining dough to the same size and thickness as the first. Place on top of the berry filling. Tuck the top dough over and under the edge of the bottom dough, and crimp the edges with your fingers. Transfer the pie to the refrigerator to chill until the dough is firm, about 30 minutes. Heat oven to 425°F.
Whisk egg and milk together to make an egg wash.
Remove the unbaked pie from refrigerator. Brush the top with egg wash. Score the pie on the top with 4 cuts (so steam can escape while cooking). Place the pie on the middle rack of the oven with a parchment paper or Silpat lined baking pan positioned on the lower rack to catch any filling that may bubble over. Bake for 20 minutes at 425°. Reduce heat to 350°F and bake for 30 to 40 minutes more or until juices are bubbling and have thickened. Transfer to a wire rack to cool. Let cool completely before serving.
Hot blueberry pudding
Ingredients:
4 tbsp porridge oats

150ml/5¼fl oz milk

1 tbsp brown sugar

squeeze lemon juice

12 blueberries plus extra to garnish

3 tbsp ricotta

1 tbsp honey
Preparation method:
Mix the porridge oats and milk together in a bowl. Microwave on high for 3 minutes.
Stir in the sugar and place a large spoonful of the porridge into a tall glass.
Top with four blueberries, one tablespoon of ricotta and a drizzle of honey.
Repeat twice more until you have used all the blueberries, porridge and honey.
Garnish with extra blueberries and serve.
Blueberry muffins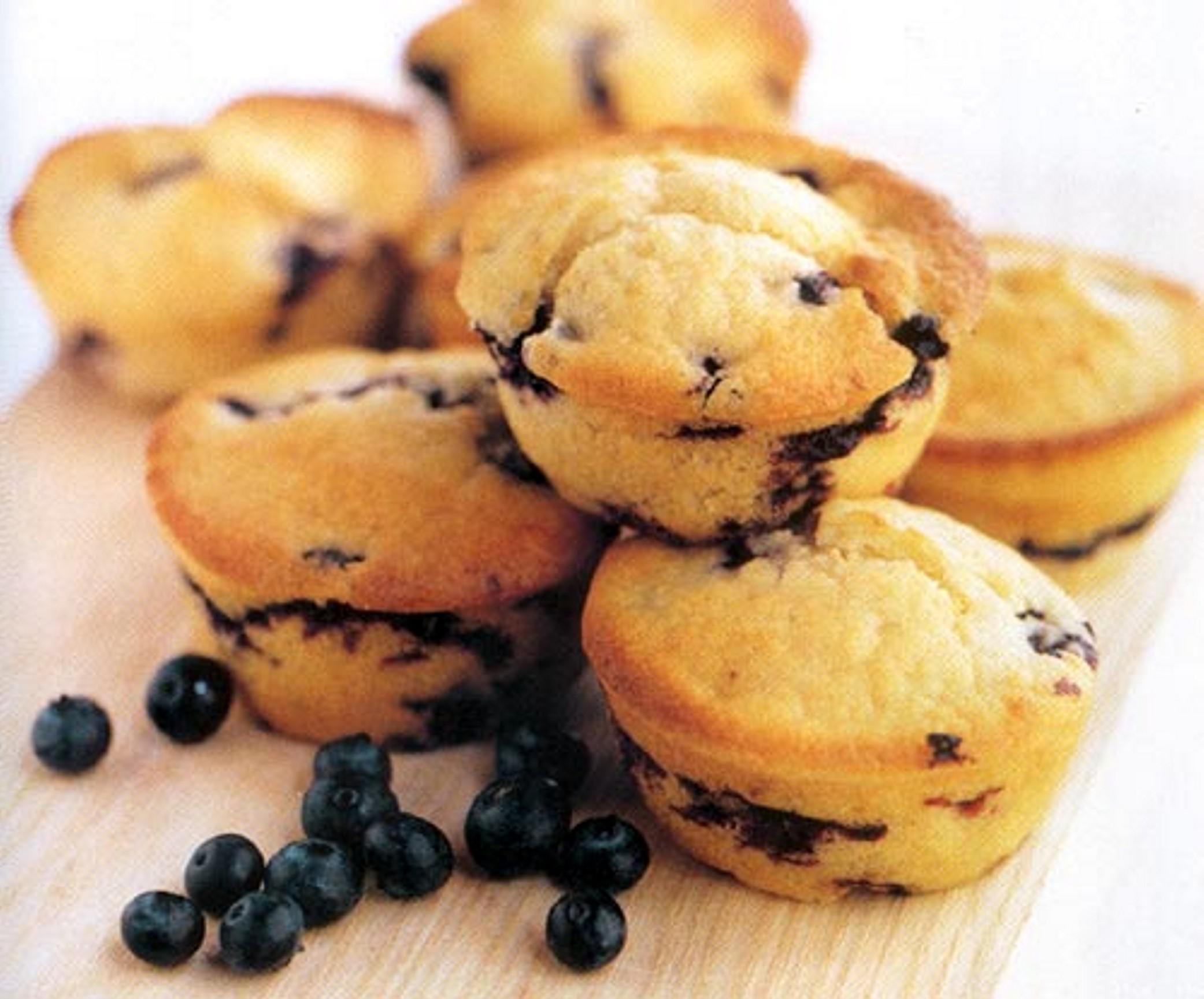 Leave the mix to rest for as long as your will power can bear…
Ingredients:
110g plain flour
110g butter
65g caster sugar
2 free-range eggs
1½ tsp baking powder
125g blueberries, or equivalent in frozen blueberries
Pinch nutmeg
Double cream, to serve
Preparation method
Cream the butter and sugar together then slowly add the eggs, mix for three minutes. Add the flour, baking powder, nutmeg, stir to combine, then refrigerate for at least an hour, preferably overnight.

Place a spoonful of muffin mixture into each muffin case, filling each to just over half way. Stud each muffin with about eight blueberries.

Bake in an oven set at 200C for 20 minutes, or until golden on top. Serve with cream.
Blueberry smoothie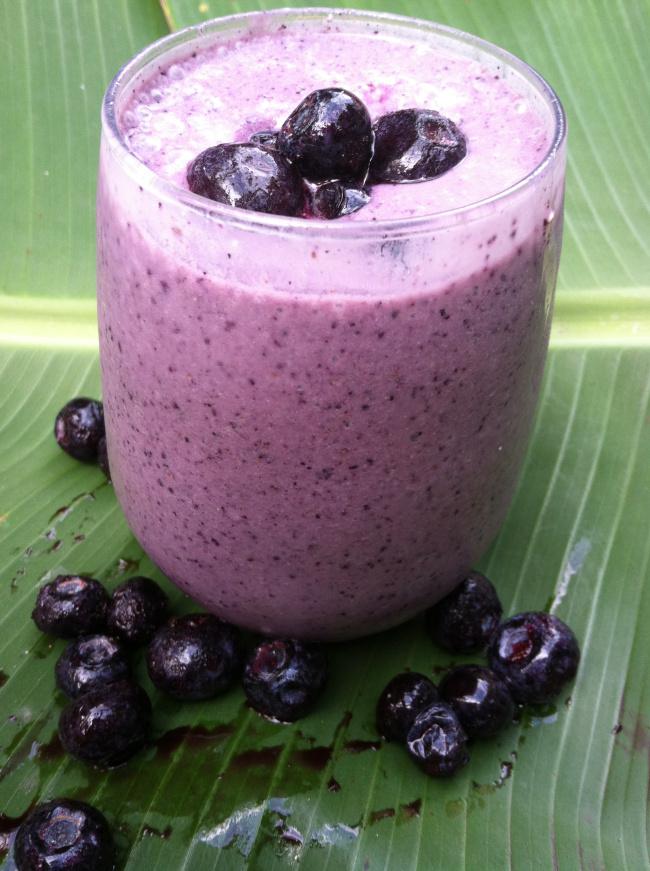 Ingredients:
1/2 cup blueberries, picked over and rinsed

1/2 cup low-fat vanilla yogurt
1/2 cup skim milk
2 tablespoons honey
5 ice cubes
Preparation method:
Place all ingredients in the jar of a blender, and process until smooth. Serve immediately in tall glasses.
Blueberry Maple Breakfast Bake Recipe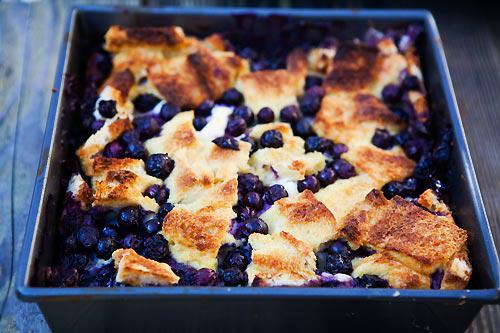 This is one of those great party brunch casseroles. It's easy to assemble the night before and just pop in the oven an hour before needed in the morning. If you are using frozen blueberries, defrost and drain first.
Ingredients for 9 servings:
1 loaf of white bread, crusts removed, bread cut into 1-inch pieces

4 oz cream cheese, cut into small cubes (about 1 cup)

2 cups fresh or frozen blueberries, divided

8 eggs, beaten
1 1/2 cups milk
1/4 cup melted butter

1/4 cup maple syrup plus more for serving
Preparation method:
Preheat oven to 350° F. Grease an 8 or 9-inch square baking dish. Place half of the bread cubes in the dish. Sprinkle cream cheese cubes and half of the blueberries over the bread. Top with remaining bread cubes and blueberries.

Combine eggs, milk, maple syrup and butter in a large bowl and pour over bread mixture.

Bake until a knife inserted in the center comes out clean, about 1 hour. Cover with aluminum foil if you notice the edges browning too much during baking.

Let stand for 10 minutes before serving. Cut into squares to serve. Serve with additional maple syrup. Can be prepared the night before, and baked before serving.
IzReal.eu – It's really you