Raised garden beds, also called garden boxes, are great for growing small plots of veggies and flowers. They keep pathway weeds from your garden soil, prevent soil compaction, provide good drainage and serve as a barrier to pests such as slugs and snails. The sides of the beds keep your valuable garden soil from being eroded or washed away during heavy rains. In many regions, gardeners are able to plant earlier in the season because the soil is warmer and better drained when it is above ground level.
By raising the soil level, raised garden beds also reduce back strain when bending over to tend the bed. This is especially helpful to older gardeners or people with bad backs. And if the beds are built well, the gardener can sit on the edge of the bed while weeding, and for some gardeners this is the biggest benefit of all.

Raised beds are not the same as garden planters. Planters are elevated containers which have bottoms to prevent the soil from falling out. Planter bottoms usually are slatted, with some type of semi-permeable cloth barrier which permits drainage. Raised beds, however, do not have bottoms; they are open to the ground, which offers the benefit of permitting plant roots to go further into the ground for available nutrients.
How to Build a Raised Garden Bed
Gardeners can build their own elevated garden beds with relative ease. You will need to decide what kind of wood to use, how tall you want the bed to be, and whether you want to build the entire bed yourself or use pre-made corner braces which simplify the construction process and provide a secure corner that won't work loose over time.
What kind of wood to use?
In most cases, cedar is the best wood to use for garden beds because cedar is naturally rot resistant. Red cedar is commonly used, but white cedar, yellow cedar and Juniper are also great choices for outdoor construction projects. Redwood is another excellent rot-resistant wood, but redwood is a more limited resource. How long the wood will last depends on the type of cedar and your local weather conditions. In general, you should expect about 10 years from a cedar bed before it begins to deteriorate.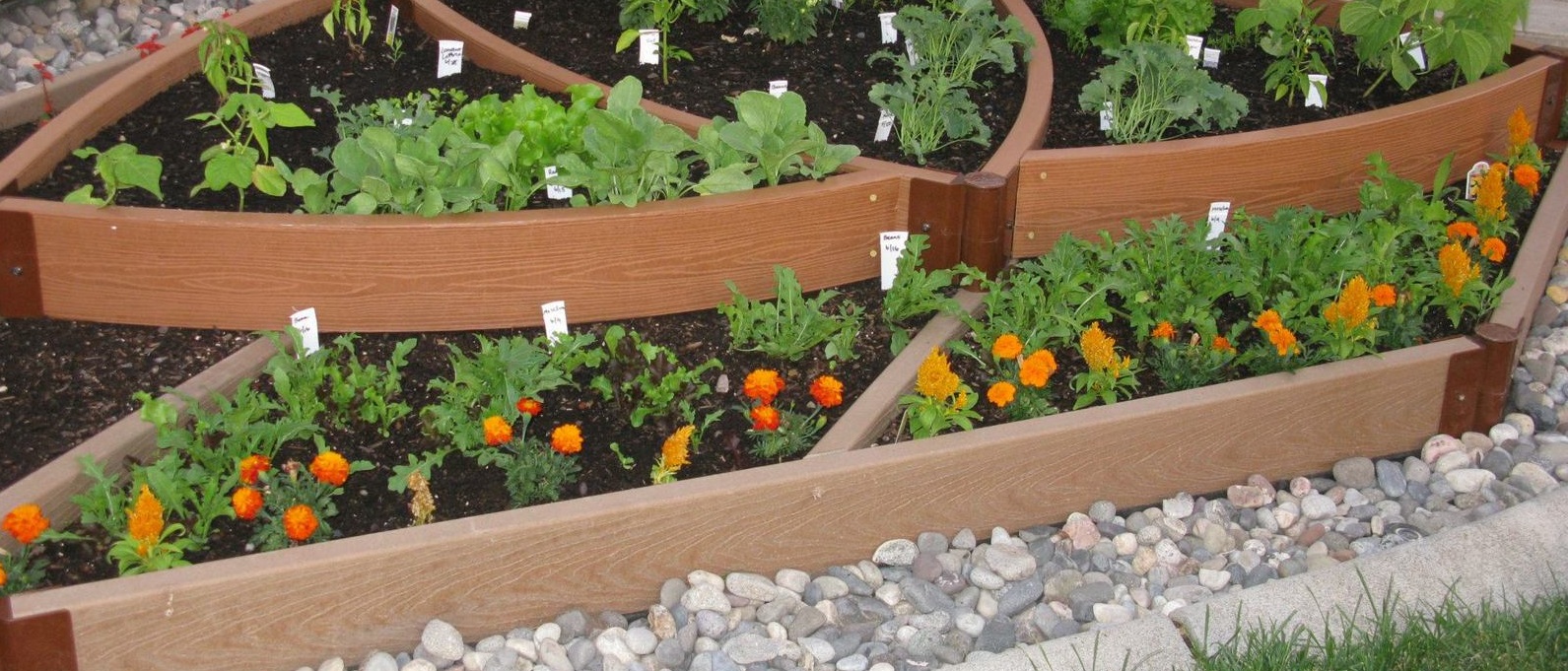 How tall should the bed be?
You can build the bed to any desired height up to 90 cm. The most common height is 25/30 cm. If you have good soil beneath the bed, the roots will go down deeper as needed to access more soil and nutrients, so you can even have beds that are only 15cm high. If you want a taller bed, remember that as you go taller, the weight of the added soil will add pressure to the sides, and will bow them outward. This is easily prevented by including cross-supports. We recommend using cross-supports in any beds which are taller than 45cm, or longer than 150cm.
It is also important to consider the soil depth requirements for the roots of the vegetables you want to plant. Depending on the soil conditions beneath your bed, you may want to build the sides of your bed higher for certain crops.
How wide and long should the bed be?
We recommend bed width to be no wider that 120cm across. This is because it is easy to reach the center of the bed from either side, and for people with long arms, to reach across the bed. It's important to keep the width this narrow to avoid having to step on the bed since this would compress the soil. The bed can be any length as long as cross supports are installed every 100/150cm along the length of the bed to prevent bowing.

Is treated lumber safe?
In 2003, the EPA banned the sale of lumber treated with chromated copper arsenate (CCA) for residential use. Two compounds, alkaline copper quat (ACQ) and copper azole (CA-B), have now replaced CCA wood in the residential market. Both contain copper and a fungicide but no arsenic. The copper keeps insects at bay, and the fungicide prevents soil fungus from attacking the wood. In ACQ, the fungicide is quat, which is also used in swimming-pool chemicals and as a disinfectant. The other compound, CA-B, uses copper and tebuconazole, a fungicide used on food crops. According to Miles McEvoy, who works in organic certification with the Washington State Department of Agriculture, no pressure-treated wood is allowed in soils used to grow organic food. If you want to meet this high standard, choose a different material.
Until the safety of treated wood is proven conclusively, we recommend you use a naturally rot-resistant wood like red cedar, black locust or redwood. Under most circumstances, these woods will last 10 – 20 years when used for raised beds. Recycled composite plastic lumber is another alternative, and is now available in a variety of sizes and colors.
IzReal.eu – It's really you