Sveiki ladies and gentle people, it is about time for yet another brief status update as many things have happened since the last update. It seems like spring was just skipped and we went from winter straight into summer. Not that we are complaining as the sunshine and blue skies are very welcome. Although just as I started writing the skies turned dark and rain is falling. Not less welcome as it is as much needed by our gardens and beds, in which the herbs and veggies are really starting to go, shades of green are everywhere.
The digging for the footing for the extension of the house is for the greatest part done, and it now awaits the loads of  gravel and stones to build a 'Rubble trench foundation'. After the gravel, stones and drainage-pipe are in the ground we can cast our grade-beam and build the framing and start building our natural stone stem wall after which we can fill the walls with light clay straw. But we are still a long ways from that point. We have however done some material testing and are trying to establish the applicability of the light clay straw for roofing insulation. More on that later in a separate article.
Standard and reinforced test panels 
That's not all folks, we have also started the construction of our outside kitchen area. The first object to be placed was a simple rocket-stove design, and then another one as two burners are the quite welcome when cooking for a larger group of people.
Simple design of rocket-stove
Rocketstove built with reclaimed bricks
In the process we decided to build the BBQ in between the two stoves so we can cook outside and keep the house cool during those lovely warm days. The base was covered and sculptured with cob. The cob will be covered with a few coats of linseed oil to make it virtually water resistant.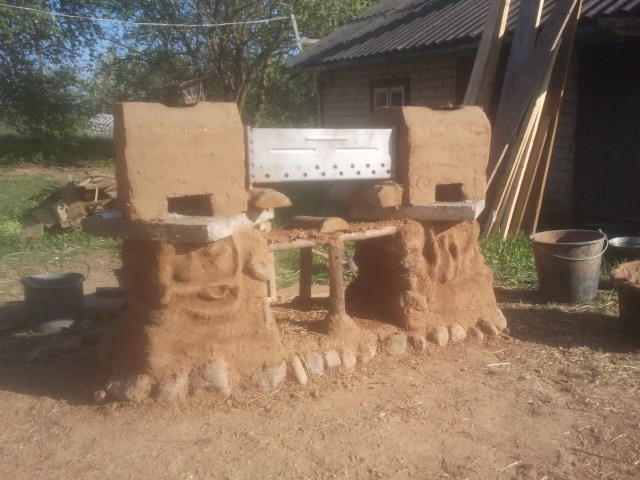 In the meantime we have also been on a field trip to meet with some nice folks living in the woods close to Ukmerge in a house they have built from straw-bale.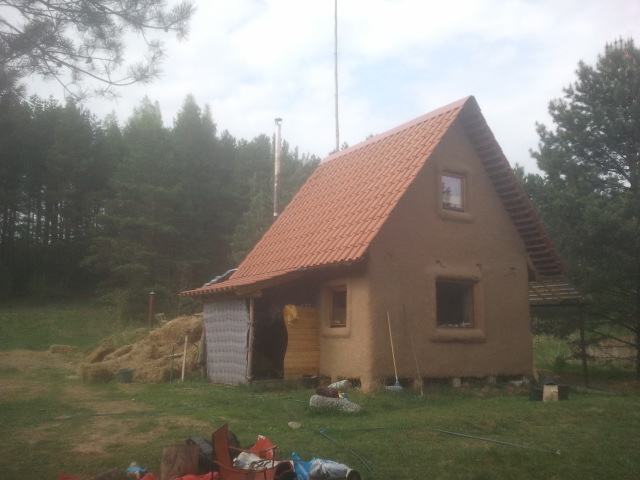 Since we were in a building mood we ended up building a foundation for a greenhouse they were constructing. Just what we needed for a little R&R, another full day of foundation work, the results however are great as you can see in the picture below.
Thats about it for now folks, as you can see plenty to do in and around our little slice of heaven. For now we from the IzReaL.eu crew greet you.
Till we meet again.
IzReal.eu – It's really you