From using leftover coffee beans to preventing dirt from getting underneath fingernails, here are just a few helpful tips and shortcuts to make spring gardening a little less complicated and a little bit more organized.
1. To remove the salt deposits that form on clay pots, combine equal parts white vinegar, rubbing alcohol and water in a spray bottle. Apply the mixture to the pot and scrub with a plastic brush. Let the pot dry before you plant anything in it.
2. To prevent accumulating dirt under your fingernails while you work in the garden, draw your fingernails across a bar of soap and you'll effectively seal the undersides of your nails so dirt can't collect beneath them. Then, after you've finished in the garden, use a nailbrush to remove the soap and your nails will be sparkling clean.
3. To prevent the line on your string trimmer from jamming or breaking, treat with a spray vegetable oil before installing it in the trimmer.
4. Turn a long-handled tool into a measuring stick. Lay a long-handled garden tool on the ground, and next to it place a tape measure. Using a permanent marker, write the marks on the handle. When you need to space plants a certain distance apart you'll already have a measuring device in your hand.
5. To have garden twine handy when you need it, just stick a ball of twine in a small clay pot, pull the end of the twine through the drainage hole, and set the pot upside down in the garden. Do that, and you'll never go looking for twine again.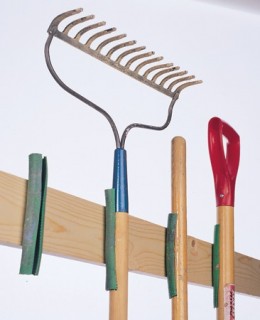 6.  A cheap and effective way or organizing your hand tools. Cut an old hose into 7-in. pieces, slit them, and nail them to the wall to make good holders for handled tools in the garage.
7. To create perfectly natural markers, write the names of plants (using a permanent marker) on the flat faces of stones of various sizes and place them at or near the base of your plants.
8. The next time you boil or steam vegetables, don't pour the water down the drain, use it to water potted patio plants, and you'll be amazed at how the plants respond to the "vegetable soup."
9. Use leftover tea and coffee grounds to acidify the soil of acid-loving plants. A light sprinkling of about one-quarter of an inch applied once a month will keep the pH of the soil on the acidic side.
10. Use chamomile tea to control damping-off fungus, which often attacks young seedlings quite suddenly. Just add a spot of tea to the soil around the base of seedlings once a week or use it as a foliar spray.
11. A quick way to dry herbs: just lay a sheet of newspaper on the seat of your car on a sunny day, arrange the herbs in a single layer, then roll up the windows and close the doors. Your herbs will be quickly dried to perfection. What's more, your car will smell great.
IzReal.eu – It's really you