We live in a time where we create garbage on a daily basis. Different materials like plastic bottles, kitchen utensils, garden tools or the empty cans are the things we throw away at the moment we are done using them or when they are worn. Sometimes if we contemplate a little more, then we can realize that we can give those items a second life.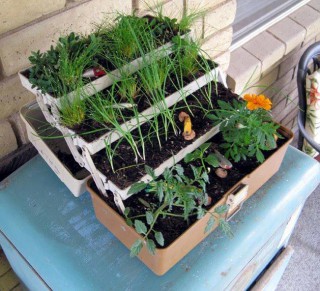 With recycling we help nature, and avoid pollution, secondly, we create usable objects that can help us save some money. Sometimes recycling is simply putting something in the right bin, but there can be an art to it as well. Many people have found creative ways to upcycle and re-use materials into new objects that rival their original purpose.
A perfect and very easy way to recycle an old tackle box, just by cleaning it out and filling it with some good soil it looks like it would make a wonderful herb garden, a welcome addition to any kitchen.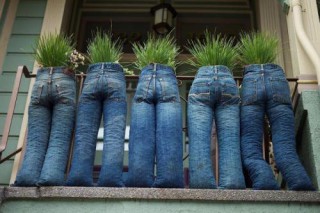 These cheerful planters are easy to make, and will bring a smile wherever they are hung. Sewing skills are not necessary, and all you will need are a few common materials.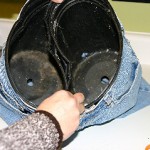 Poke a few small holes around the edges of the jeans and through the plastic pots. Wire the pots to the jeans to keep them from becoming unbalanced.

Take a look at these awesome coat hangers that will put smile on your face and on any face opening your wardrobe. The set of these hangers are made from broken chair backs and were created by designer Antonello Fusè.
A very arty way of recreating value from wasted objects that will surely spice up your closet!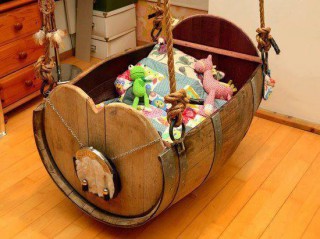 Wine barrel furniture has a beautiful rustic style, made from a Canadian oak wine barrel which has previously stored French wine in the Bordeaux province.
This unique baby cradle shows there is no end to re-purposing materials if you just let your imagination run wild. Whimsical creativity meets thrifty pragmatism in a fun way to be green. It´s a way of recycling, a break with tradition and a great way to add that touch of fun into your space.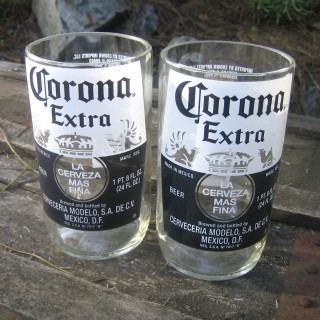 Making drinking glasses from bottles has been around for years, and while it is relatively easy to cut a bottle, making a nice useful drinking glass is a little more difficult. But with the right tools, a little patience and a stack of bottles even you can do it.
With a few simple techniques you can turn any beer bottle into a cocktail glass. All your guests will think you're so creative, talented, and fun to drink with.
If you want to know how it can be done just click here to see a few methods. Just remember to be careful and at least wear eye protection at all times when working with glass.
See more fun stuff here & here.

IzReal.eu – It's really you