We all know that concrete and steel construction create enormous amounts of greenhouse gases. Wood can be sustainably grown, but harvesting, milling and transport use large amounts of energy. In fact forty-percent of global carbon dioxide is linked to the construction industry.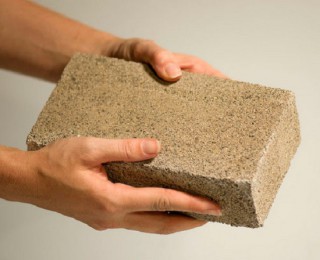 It is definitely time for a change in construction materials and Ginger Krieg Dosier might just have the solution.
Each year the world produces 1.23 trillion bricks, enough to stretch from the earth to the moon 325 times! It is estimated that brick making produces 800,000,000 tons of CO2 each year. Dosier feels we could keep that 800,000,000 tons out of the atmosphere, if we grew our bricks rather than fired them.
Introducing the biomanufactured brick, made with local sand and a few other low impact ingredients (bacteria, calcium chloride, and urea). Tests demonstrate that bio bricks can be compared in strength with traditionally fired clay bricks and even marble. Dosier was inspired by coral which also grows itself.
Biomason has won the Cradle to Cradle Innovation Challenge 2013 and the 2013 Postcode Lottery Green Challenge award.
Ginger Krieg Dosier holds a Master of Architecture (2005) from the Cranbrook Academy of Art and a Bachelor of Interior Design (2000) from the Auburn University College of Architecture, Design and Construction. She is currently an Assistant Professor of Architecture at the American University of Sharjah College of Architecture, Art and Design, United Arab Emirates. Prior to arriving at AUS in 2007, Dosier was a Visiting Assistant Professor at the North Carolina State University College of Design.
More info: www.biomason.com

IzReal.eu – It's really you