If you are looking for a home with energy-efficient features that will provide a comfortable, tranquil, weather-resistant dwelling, an earth-sheltered or  earth bermed house could be the right choice for you.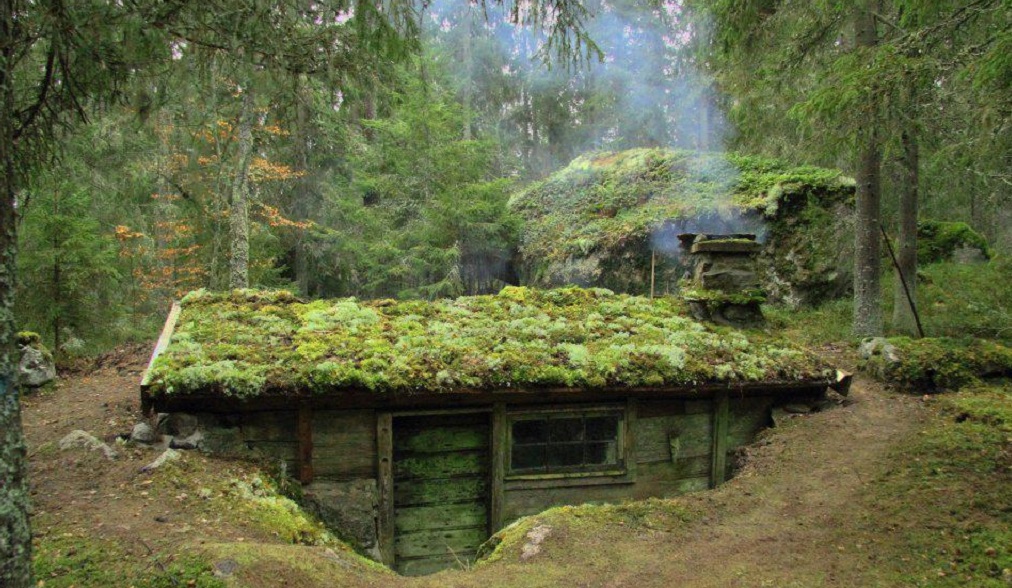 UNDERGROUND EARTH-SHELTERED HOMES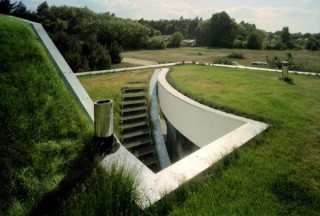 When an entire earth-sheltered house is built below grade or completely underground, it's called an underground structure. An atrium or courtyard design can accommodate an underground house and still provide an open feeling. Such a house is built completely below ground on a flat site, and the major living spaces surround a central outdoor courtyard. The windows and glass doors that are on the exposed walls facing the atrium provide light, solar heat, outside views, and access via a stairway from the ground level.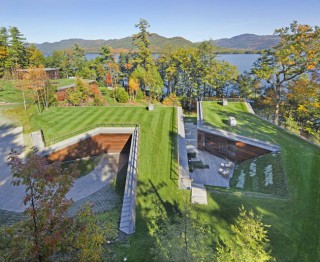 The atrium design is hardly visible from ground level, creates a private outdoor space, and provides good protection from winter winds. This design is ideal for building sites without scenic exterior views, in dense developments, and on sites in noisy areas. Passive solar gain—heat obtained through windows—is likely to be limited because of the position of the home's windows, and courtyard drainage and snow removal should be carefully thought through during design.
BERMED EARTH-SHELTERED HOMES
A bermed house may be built above grade or partially below grade, with earth covering one or more walls. An "elevational" bermed design exposes one elevation or face of the house and covers the other sides—and sometimes the roof—with earth to protect and insulate the house.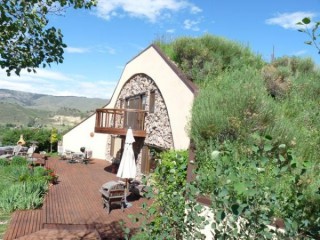 The exposed front of the house, usually facing south, allows the sun to light and heat the interior. The floor plan is arranged so common areas and bedrooms share light and heat from the southern exposure. This can be the least expensive and simplest way to build an earth-sheltered structure. Strategically placed skylights can ensure adequate ventilation and daylight in the northern portions of the house.
In a penetrational bermed design, earth covers the entire house, except where there are windows and doors.The house is usually built at ground level, and earth is built up (or bermed) around and on top of it. This design allows cross-ventilation and access to natural light from more than one side of the house.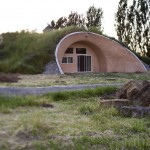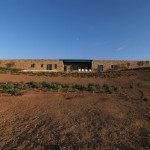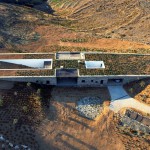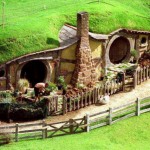 ADVANTAGES & DISADVANTAGES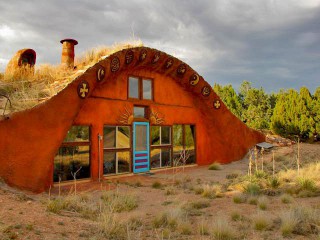 Like any home design, earth-sheltered houses have advantages and disadvantages. On the plus side, an earth-sheltered home is less susceptible to the impact of extreme outdoor air temperatures. Earth-sheltered houses require less outside maintenance, and the earth surrounding the house provides soundproofing. In addition, most earth-sheltered houses "blend" the building into the landscape more harmoniously than a conventional home. Finally, earth-sheltered houses can cost less to insure because they offer extra protection against high winds, hailstorms, and natural disasters.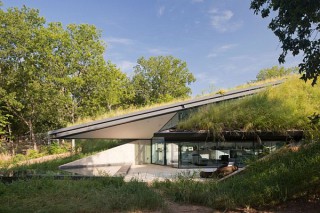 The principal downsides to earth-sheltered houses are the initial cost of construction, which can be up to 20% more than a conventional house, and the increased level of care required to avoid moisture problems, both during construction and over the life of the house. It can also take more diligence to resell an earth-sheltered home, and buyers may have more hurdles to clear in the mortgage application process.
SITE-SPECIFIC FACTORS
Before deciding to design and build an earth-sheltered house, you'll need to consider your building site's climate, topography, soil, and groundwater level. Studies show that earth-sheltered houses are more cost-effective in climates that have significant temperature extremes and low humidity. Earth temperatures vary much less than air temperatures in these areas, which means the earth can absorb extra heat from the house in hot weather or insulate the house to maintain warmth in cold weather.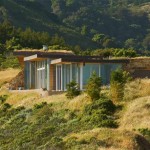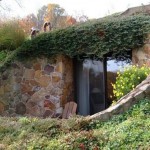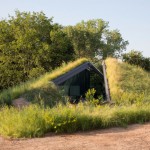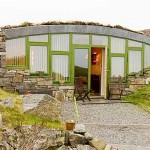 The site's topography and microclimate determine how easily the building can be surrounded with earth. A modest slope requires more excavation than a steep one, and a flat site is the most demanding, needing extensive excavation. A south-facing slope in a region with moderate to long winters is ideal for an earth-sheltered building. South-facing windows can let in sunlight for direct heating, while the rest of the house is set back into the slope. In regions with mild winters and hot summers, a north-facing slope might be ideal. Careful planning by a designer familiar with earth sheltering can take full advantage of the conditions on your particular site.
IzReal.eu – It's really you