Tree houses are buildings constructed among the branches or next to the trunk of one or more mature trees, and are raised above the ground. Tree houses can be built for recreation or permanent habitation.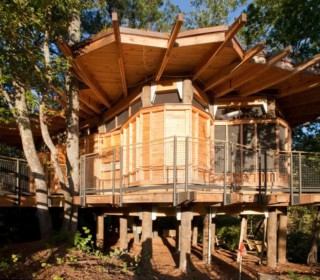 While tree houses are often associated with one's childhood, adults have taken it upon themselves to create some unbelievable buildings that are far more incredible than one could ever imagine. The appeal of tree houses is fairly obvious: seclusion, sustainability, coziness, communion with nature. Of course, often times those are qualities that are 
felt
 rather than understood, and obviously tree houses can retain this magic.
Interestingly, people in some countries don't see tree houses as exotic, but as every-day parts of their lives. In New Guinea, for example, the Korowai people live in tree houses permanently. The raised homes help protect their food and belongings from animals and floods by keeping everything above ground level.
Nowadays tree house have become more than just a fairy tale-like hideout or an exotic living place in far-away lands. As tree houses have long outgrown the traditional wooden cabin concept, some even feature multiple floors and many other stunning design elements.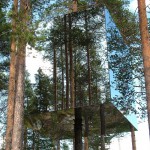 What is it that keep drawing people upward, is it purely adventure? Maybe it's part of being human and channeling the inner primitive instincts. After all, there are many indigenous people groups that lived in the trees to protect them from wild animals.
Whatever may be the case, utilizing materials such as reclaimed wood, glass, mirrors and bricks, it is fascinating to see what some people have designed.
Read more on tree houses
here
IzReal.eu – It's really you