The Rabot Tourist Cabin is one of many DNT (Norwegian Trekking Association) lodging facilities throughout Norway. It is located at 1200 meters above sea level, close to the glacier at Okstindan in northern Norway. The site is spectacular and the mountains and glaciers are in close proximity. The weather can be extremely harsh and the structure is constructed for heavy winds and storm.
The site is inaccessible by road and is only reachable on foot or on skis. The cabin is named after the French glaciologist and geographer Charles Rabot who thoroughly explored the mountain areas in the province of Nordland. It is planned and
built with local materials
and with great local commitment.
The main cabin is an eye catching yet neutral volume in the landscape with a diagonal programmatic and spatial concept. The behavior of snow and heavy winds at the site, have generated the simple shape of the cabin, without protruding elements. The shape of the two chimneys mimic the topography of the mountain tops and acts as protecting structures to avoid the use of tension cables.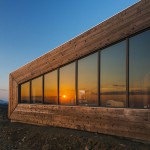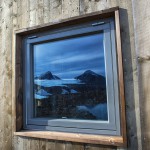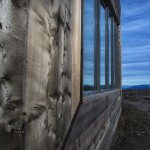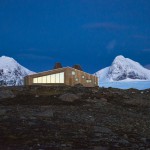 The exterior cladding consists of locally cut, thick timber boards with a coarse finish and is treated with ferric sulfate for a grey, natural feel. The same panels are used indoors in the common areas for an outdoor-indoor familiarity. The bedrooms and secondary functions have white varnished panels for a brighter feel. The color scheme of the interior is dimmed while visitors themselves will add various colors with their clothes and gear. The interior furniture and kitchen are locally made from birch plywood.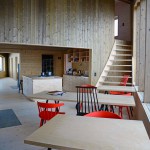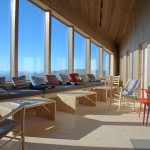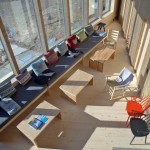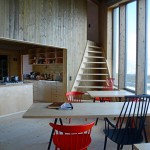 All windows have been calibrated for accurate gas pressure on site to protect the glass from possible high altitude self-destruction. The mountain cabin has no cabled electricity and solar panel energy provides power for indoor lighting. The heating is based on two efficient fire stoves, one in each common area. The plan is strategically devised with the possibility of closing one half of the cabin with sliding doors for more efficient heating when fewer people visit the cabin.
IzReal.eu – It's really you