The Hobbit has inspired generations of fantasy creators. But it's also been an inspiration to tons of architects and designers.
"In a hole in the ground there lived a Hobbit. Not a nasty, dirty, wet hole, filled with the ends of worms and an oozy smell, nor yet a dry, bare, sandy hole with nothing in it to sit down on or to eat: it was a Hobbit-hole, and that means comfort." – wrote J.R.R Tolkien in
 The Hobbit
. So here are some real-life hobbit-holes that look suitably comforting.
The 600 sq feet (56 m2) house is used for store the owners rare books and Tolkien-inspired collection that he has gathered in the last three decades. The house was built in 2004 and has a large, 54-inch (137 cm) diameter cedar door and wonderful handcrafted wood furniture.
Built by the Lord Of The Rings fan Steve Michaels and his wife Christine. The house below is available as a Hobbit-themed vacation rental. In the garden there is Bilbo's and Frodo's House, and a whole elves village.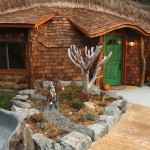 All over the globe people have been inspired to build homes which speak to our imagination. Some are loosely based on stories, tales or books but all encapsulate the dreams and visions of their owners.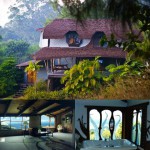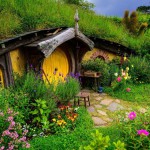 IzReal.eu – It's really you